Amelia Island is bursting with some amazing talent. In this small community we are blessed to have so many local artists working in a wide range of styles and mediums. We are proud to display their unique and beautiful works for you to have in your home, retreat, or business. The artwork we offer includes photography, paintings, ceramics, jewelry, sculpture, custom furniture pieces, and home décor items.
Come into Coastal Cottage of Amelia for a truly one-of-a-kind work of art. Subscribe to our mailing list to be informed of upcoming special events where you can meet the artists and even have a piece custom made just for you!
Our current consignors:
Amelia Island MicroGreens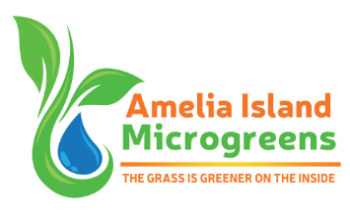 Amelia Island MicroGreens (AIM')s mission is to serve our community through education. Founded by teen entrepreneur Connor started AIM at 15 years old. He has kept true to his mission of education.
Locally made oyster shell trees and spheres.
Custom wood-based furniture pieces.
Black Frog Designs offers area specific designs for where and who you are that are original and personalized.
Cynthia (Cindy) Jenkins is a self-taught artist residing and finding inspiration in Fernandina Beach, Florida, and the surrounding Amelia Island. Cindy works in a variety of mediums including watercolor, oil, and soft pastel. In recent years she has been drawn to the qualities of the soft pastel medium with their vibrant pigments. Her subject matter for her work is broad and varied, including landscapes, figurative scenes and still life works. She is also an avid photographer, finding inspiration through her camera lens for painting reference.
Cindy is a juried member of the Island Art Association and the Plantation Artists Guild and Gallery and has a working studio in the Blue Door Artist Studios in downtown Fernandina Beach. She is a member of the First Coast Pastel Society, the Southeastern Pastel Society, and a juried associate member in the Pastel Society of America. She has received numerous awards and recognition on a local and national level including the Island Art Association Nouveau Art Show, the Southeastern Pastel Society, and Dakota Pastels.
Dr. Sharon Hoffman of Coastal Fine Photo has been photographing coastal moments around the world since 1985. Little Talbot Island State Park in NE Florida is a favorite as it is never the same place twice due to tides, storms, and wind which create ever changing driftwood and dune sculptures.
"Returning to the same beaches season after season and year after year reveals the resilience of what I have become to know as my "bone friends."
​The driftwood bones of root and limb are often turned around, toppled and flipped over, covered or uncovered by sand, yet still providing a barrier against beach erosion. Who will win? Wind, storm, tide, or the bone friends? Over time, the bones have shown me resilience, the value of friends, and being steadfast through the storms of life. Sometimes the storm is calmed, other times the person is calmed (Matthew 8:23-26).
Debbie Porter has been a resident of the Amelia Island area for several years after working around the globe as an English teacher in Europe, Asia, the Middle East, and the USA. She has found a new vocation as a creator of shell art.
"I love making something beautiful out of things that are normally discarded, like oyster shells after the oysters have been harvested. The shells are like snowflakes — no two are the same. I give them new life in the form of an artistic remembrance of their previous life on Coastal Amelia Island."
Alcohol Ink art
Katie Bruggner of Little Marsh Island creates glass art and dish ware.
Marcia DeFalco has exhibited her award-winning artwork in a variety of media, but her first love is printmaking— engraving, intaglio etching, lithography, linocut, wood cut, collagraph, aquatint, monotype. She explores printmaking techniques that combine prints with mixed media including watercolors, acrylics, colored pencil, pen and ink, collage, and assemblage that make each print an individual and unique work of art. She has exhibited her works in solo and group shows, galleries, salon shows, and at juried art fairs.
Marcia began her formal art training as an undergraduate when she pursued a degree in education with an art studio minor. She later earned a graduate degree in Fine Art with an emphasis in printmaking and received a full-tuition talent scholarship during her final year of study. Marcia's extensive studies brought her in contact with expert printmaking artists Rene Nagle and J. Deibig Lacaria both known for their creative use of the print media.
Originally from the Midwest, Marcia retired to Amelia Island after living and working in the Washington, DC area for nearly 20 years. She feels very much at home on Amelia Island and immediately connected to the island's natural beauty. Marcia's love of nature—of its wonders, magic, serenity, and peacefulness—inspires her art and her artistic insights. She draws on themes and scenes from nature and combines them with a keen eye for detail, whimsy, and sometimes an Asian arts perspective to create works that are refreshingly original.
Now it possible to find the style of furnishings and accents similar to those currently popular on home renovation shows on HGTV and the DIY network, as well as casual decorating magazines, in a single store on Amelia island. We have frequent turnover in our inventory as the seasons change so stop by often to see what's new!
To be notified of our specials and events: